Published on August 11, 2017 by Sarah Waller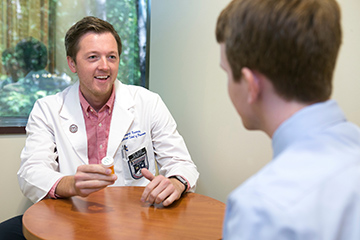 Samford University's McWhorter School of Pharmacy has received continued accreditation through 2025 for its Doctor of Pharmacy program by the Accreditation Council for Pharmacy Education (ACPE), the national agency for accreditation of professional degree programs in pharmacy. A site team visited the school in March of this year, and the school was informed of the board's decision in July. 
This eight-year extension is the longest cycle allowed by ACPE, adding to McWhorter School of Pharmacy's 90-year history of providing excellence in pharmacy education. Its pharmacy degree program has been accredited by ACPE continuously since 1941.
"Continued accreditation validates the amazing work faculty and staff are doing here at Samford University McWhorter School of Pharmacy," said Fred E. McWhorter Dean and Professor Michael Crouch. "I'm incredibly proud of our students, and we're living our mission to prepare students in a nurturing, Christian environment to be exemplary pharmacist and improve health worldwide."
McWhorter School of Pharmacy currently enrolls more than 475 students, and along with its Doctor of Pharmacy degree program, the school offers multiple dual-degree options so students can customize their Pharm.D. to align with their future career goals.
In addition to the accreditation of its Doctor of Pharmacy program, McWhorter School of Pharmacy received continued accreditation through 2023 for its continuing pharmacy education program, and this six-year extension is the longest cycle allowed by ACPE.
The mission of McWhorter School of Pharmacy's continuing education program is to design and implement high-quality programming that promotes meaningful interaction as a health care team, leading to meaningful improvement of pharmacy practice and patient care.
The next continuing education program will take place on Friday, Sept. 8, 2017. Go to samford.edu/pharmacy/continuing-education for the school's full fall schedule.