Published on September 12, 2018 by Jackie Long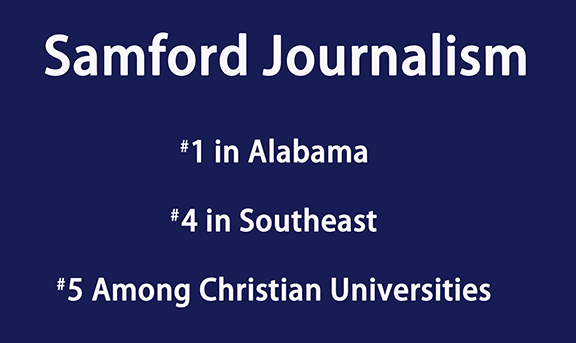 Samford University's Journalism and Mass Communication major (JMC) was named the number one journalism program in the state of Alabama for the fourth year in a row by College Factual. The program was also named the 35th best program nationally, up from 54th in last year's rankings.
Additionally, Samford's JMC major earned the following national and regional rankings:
4th best journalism program in the Southeast
5th best journalism program at a Christian college or university nationally
17th "best value" program nationally
22nd "most focused" program nationally
"I believe Samford offers the best journalism education at a private Christian school in the country," Bernie Ankney, chair of the JMC and Communications Studies Department, said. "College Factual shows Samford JMC is the 17th best value nationally. I'm thrilled we can offer such a first-rate education at a reasonable cost."
JMC is one of the fastest growing majors at Samford with 220 majors, including a record-breaking 57 first-year students this fall. The program features four study concentration areas in print journalism, broadcast journalism, public relations and advertising. The department also houses two minors in film production and sports media.
"We offer a creative and innovative curriculum and award-winning programs," Ankney said. "Samford JMC is ideal for students who want individual attention and smaller class sizes. I am fortunate enough to work with some of the best JMC faculty members in the country."
Ankney said the success of alumni played a key role in the recognition. "We rank highly in College Factual because we have excellent students who have earned great jobs after graduation. We have had graduates in the past 12 years go directly to ESPN, The Washington Post and the leading PR and ad agencies in the South."