Published on April 23, 2018 by Sarah Waller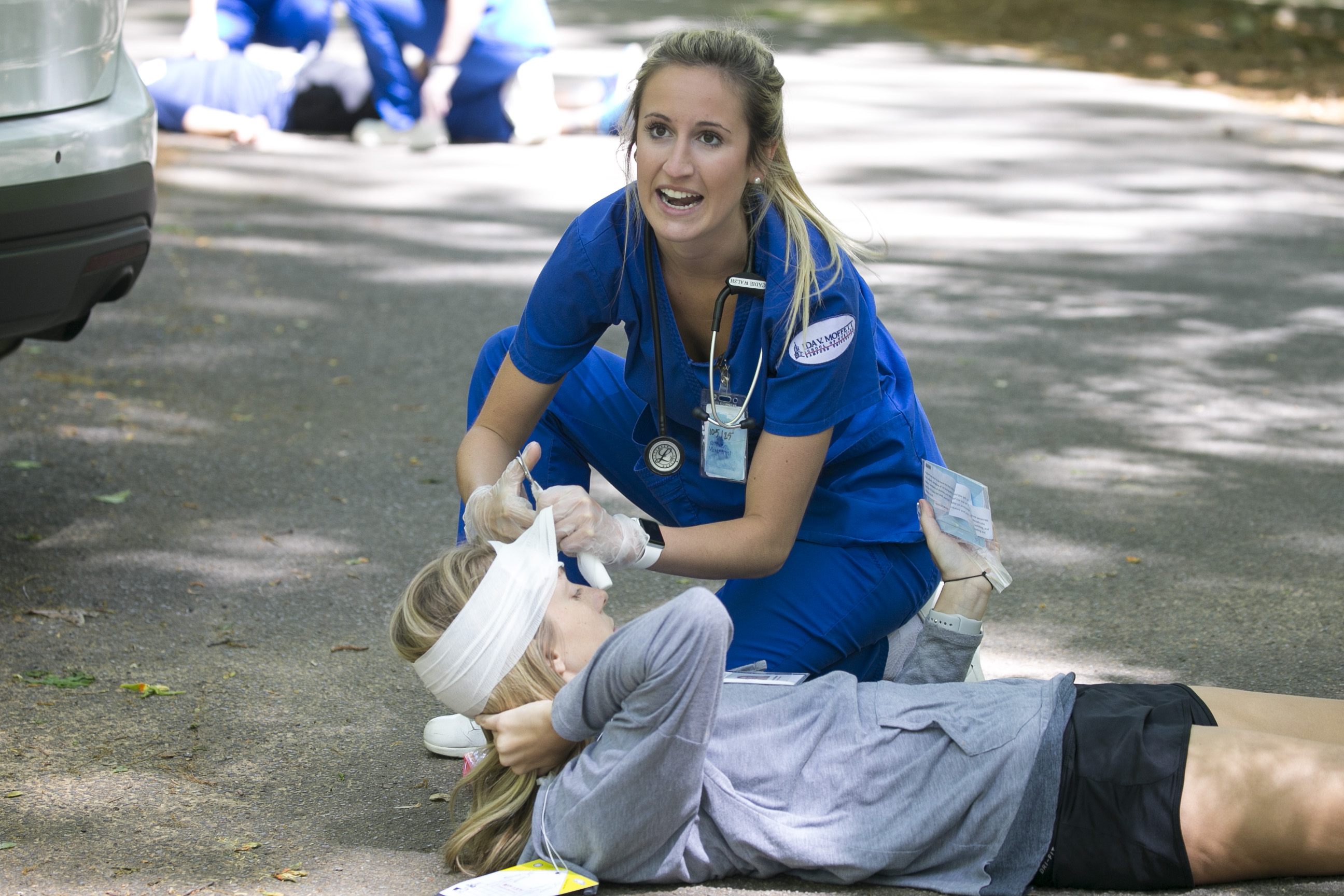 Samford University's College of Health Sciences held its annual disaster simulation April 20 to prepare future health care providers with the knowledge of how to respond in the event of a campus or community emergency. 
This large-scale simulation is a testament to the college's commitment to interprofessional collaboration and experiential learning, empowering students with confidence and skills to be leaders in today's team-based approach to health care.   
In partnership with the Homewood Haz-Mat Decontamination and Tactical Teams, Birmingham Regional EMS System, Jefferson County Emergency Management Agency, Regional Paramedic Services and Brookwood Hospital, the College of Health Sciences simulated the aftermath of two scenarios, a bomb explosion and an active shooter, resulting in injuries ranging from psychological impact to fatalities. 
This is the eighth year Samford held a disaster simulation, and this year, it took place on campus—in and around Samford's College of Health Sciences facilities—with more than 300 participants. Students played the roles of both first responders and victims, and community partners interacted with the students as they would in an actual disaster. 
"The simulation's overall objective is to introduce our students to a non-acute care setting, working alongside community partners who normally practice outside of the hospital," said Jill Pence, executive director of the College of Health Sciences' Experiential Learning and Simulation Center. "We decided to hold the simulation on campus because it brings a different type of realism for the students." 
The student responders who participated in the simulation represented a number of programs and departments, including undergraduate nursing, kinesiology, nurse anesthesia, athletic training, physical therapy, social work and respiratory care. 
The scenarios were determined in collaboration with the needs of the community partners. 
"When we plan these drills, we talk to our community partners to see if they have training they need to accomplish, and they identified the need to learn our buildings, to understand our terrain and to know how they would get here if they had to," said Cindy Berry, professor and Samford University's emergency readiness coordinator. "Not only does this collaboration bring more awareness to Samford, but it provides our students with the opportunity to learn first-hand the roles of our community partners, which is an important experience."