1950s Graduates
'55 Dr. Ladell Payne formerly served as the president of Randolph-Macon College in Ashland, Virginia. In recognition of his many accomplishments and impact on this college, the school intends to name their new nursing building in his honor.
'56 Dr. Charles T. Carter is the new interim pastor of Canaan Baptist Church, Bessemer. Carter is pastor emeritus of Shades Mountain Baptist Church, Vestavia Hills, and has regularly served as an interim pastor across the state since retiring in 1998. He currently serves as the James H. Chapman Fellow of Pastoral Ministry at Beeson Divinity School of Samford University and is a life member of the Samford Board of Trustees.
'57 Rev. Glenn Slye has served churches in Indiana, Kentucky, Alabama, Georgia and Florida. He has been a Rotarian since 1976 and was club president for 2 terms. He served as assistant district governor for 2 terms and served on the district polio eradication committee. Rev. Slye was a quadruple Paul Harris fellow and an Alabama Baptist state board member for 6 years and a part of the Executive Committee member for 5 years. He and his wife set up the Glenn and Frances Slye Legacy League Scholarship for Samford students.
'58 Dr. Joe Bob Mizzell has been named pastor emeritus of Hopewell Baptist church in Marion, Alabama. In a special service dubbed "Red, White, Blue and Joe Bob Too," Mizzell was honored for his service to Hopewell, as well as to Alabama Baptists and the United States.
1960s Graduates
'69 Roy "Robbie" Robertson, the founder of Colonnade Group, is transitioning from president and CEO, and has been named chairman of the board. He is also a member of the Samford Board of Overseers.
1970s Graduates
'70 Dr. Don Rankin published Back Roads and Memories, the Art of Don Rankin in October 2019. It includes many of his watercolor paintings and the stories behind them.
'71 Rev. Sidney "Sid" Burgess has written a short story "Lost in the 'Land of a Thousand Waterfalls.'" It can be found at edgewoodpc.org/lost-in-the-wilderness.
'71 Gene Johnson Davis was awarded the Robert E. Wright Jr. Award for Exceptional Service by the Alabama Chapter of the American Choral Directors Association. This award is given to recognize the service to ACDA and the positive impact on choral musicians in Alabama. For 28 years she was the Choral Director at Robert E. Lee High School in Montgomery. After retirement, Gene taught an additional 14 years at Huntingdon College. She served as the Music Department Chair for the last seven years of her tenure at Huntingdon. Gene has been an adjunct instructor at Auburn University and is currently an adjunct instructor at Auburn University in Montgomery.
'71 Michael "Mike" Ray is one of five being inducted into the Andalusia High School Football Hall of Fame. Ray was a three-year letterman in football and baseball at AHS in 1963, 1964 and 1965. After graduation, he signed a scholarship to play football at Samford University where he was a four year letterman at running back. He was Samford's leading rusher in 1968 and 1969. As a sophomore, Ray set a Samford single game record of 29 carries while gaining 157 yards, the second best running performance in Samford history. He was named Offensive MVP and elected president of Samford's "S" Letterman's Club in 1969.
'73 Carrol Cox has been inducted into the Alabama High School Sports Hall of Fame. A 1968 Jackson High School graduate and member of Samford University's 1971 National Championship team, Cox coached from 1973 to 2000 at Jess Lanier High School in Bessemer - serving as head football coach and athletic director the final 21 years. His teams reached the state playoffs 14 times, including two trips to the state finals.
'74 William Philip "Phil" Lazenby was inducted into the Alabama High School Sports Hall of Fame Class of 2019. His coaching career started with assistant coaching jobs at Jess Lanier and Mountain Brook before he became head coach at Guntersville in 1991, going 38-18. He then spent one season as head coach at Southside-Gadsden, four years as head coach at Benjamin Russell and several seasons as an assistant at UMS-Wright. Since 2007, Lazenby has been head coach at Bayside Academy in Daphne, compiling a record of 87-55, making 9 playoff appearances and leading the Admirals to a state title game in 2015. Lazenby's overall head-coaching record is 172-91 - taking four different schools to the state playoffs and compiling a 27-17 playoff record.
'75 Dr. Nathan Smith was the recipient of the 2020 Distinguished Service Award from the UAB School of Medicine Alumni Association. He was assistant dean of student services and admissions for the UAB School of Medicine at the time of his retirement in 2016.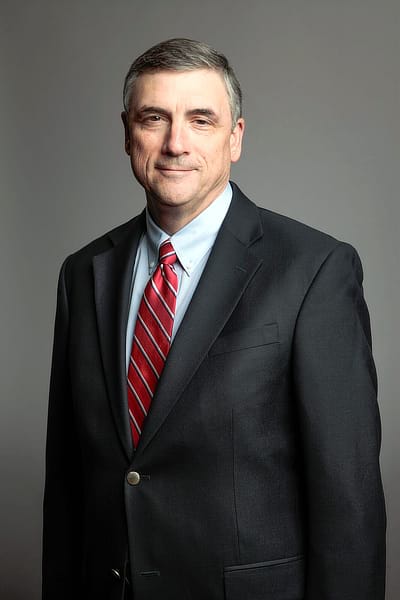 '76 Jim Goodloe retired from the Tennessee Hospital Association after a 40+ year career in healthcare.
'77 Dr. Richard Vinson, professor of religion, dean of undergraduate studies and associate vice president of academic affairs at Salem Academy and College has been promoted to the role of interim vice president for academic and student affairs. Vinson joined Salem in 2008 as a member of the religion department's faculty. He became an administrator in 2012 and continues to teach Greek, Latin and religion. Vinson received a Ph.D. from Duke University, an M.Div. from Southern Baptist Theological Seminary, and B.A. and M.A. degrees from Samford University.
'78 Judy Farrington Aust is a candidate for the Georgia Court of Appeals. Judy has practiced law in Atlanta since 1985 and she was a founding partner in the law firm originally named Goodman McGuffey Aust & Lindsey.
'78 Laura Kelly has been elected to the Board of Directors for RE/MAX Holdings, Inc., parent company of RE/MAX, one of the world's leading franchisors of real estate brokerage services, and Motto Franchising, an innovative mortgage brokerage franchisor.
1980s Graduates
'80 Dr. W. Mark Tew has been named Judson College's twenty-third president. A native of Birmingham, Tew is both a product and practitioner of Baptist higher education. In his more than three decades in higher education, he has served three Baptist institutions: Judson College, Southwest Baptist University in Bolivar, Missouri, and, most recently, Howard Payne University in Brownwood, Texas. Tew began his career in higher education as a religion professor at Judson College in 1987. In addition to his work at Baptist colleges, Tew has used his passion for teaching to serve numerous congregations. He has served as pastor, associate pastor or interim pastor at nine churches in Alabama, Texas and Louisiana.
'82 Robert Steven "Steve" Barker has been named the new boys basketball coach at Greenup County High School. Barker spent 18 years at Brewton-Parker College and five at LaGrange College, both located in Georgia, before returning to the high school ranks. He most recently was head coach at his alma mater, Apollo High School in Kentucky. Barker still holds the Bulldogs' career records for free-throw percentage (85.0) and consecutive charity tosses made (42) and their single-game high marks for free throws made (21) and attempted (24). He is second on Samford's all-time scoring list (1,902 points).
'82 Darlene McCall Higginbotham is a master trainer for Nonviolent Crisis Intervention for the Cherokee County School District in South Carolina. Her second master's degree is in school administration.
'82 Mark D. Kahler is the new area director for Joni and Friends Chicago. This ministry gives practical help to people impacted by disability.
'83 Claude Walker has been elected to the board of directors for Tallahassee Memorial HealthCare. Walker is the CEO of Summit Group Companies.
'86 Tammy Childers joined ProHealth Home Health & Hospice as a hospice clinical intake coordinator in the Birmingham market. Childers is responsible for ensuring a smooth transition for patients in Birmingham area hospitals, nursing homes and rehabilitation centers to hospice services. She has more than 22 years of experience in end-of-life healthcare. Prior to joining ProHealth, Childers worked in a similar capacity at Alacare and in UAB's Palliative Care Unit.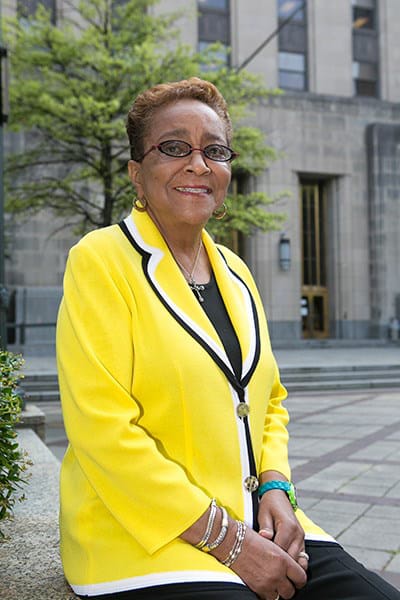 '87 Judge Helen Shores Lee has been selected to receive the Nina Miglionico "Paving the Way" Leadership Award from the Birmingham Bar Association, Women Lawyers Section. This award recognizes and honors lawyers who have actively paved the way for the success and advancement of female lawyers in the community.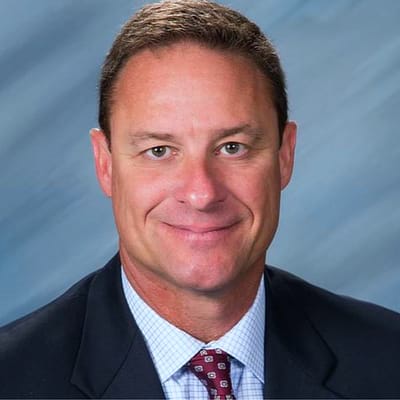 '87 Robert "Robby" Parker has been named principal at Whitesburg Christian Academy. He will serve as principal of the academy's Upper School, which serves grades 7-12. Parker has worked for Madison City Schools for 31 years. He was most recently the superintendent for Madison County Schools.
'88 & '91 Dr. Shelley Hill Montgomery and her daughter, '15 Anne Catherine Mueller have collaborated to write an anatomy and physiology review guide to help her  before she begins CRNA school at Samford in May. The book "Anatomy & Physiology Plain and Simple: A Coloring Review Guide" was published October 2019 and is available online and in bookstores.
'89 Lauren Wilson, who has led initiatives and supported the University of Alabama's research enterprise for 13 years, has been selected as the assistant vice president for research and technology agreements.
1990s Graduates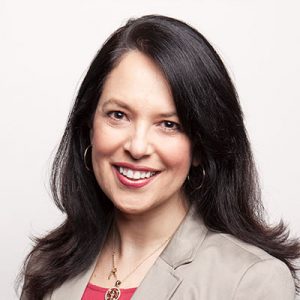 '90 Andi Campbell Sims, vice president of marketing at HPM, has been appointed to the International Aviation Women's Association (IAWA) Board of Directors as the organization's vice president of membership. A Homewood resident, Sims has nearly three decades of experience as a marketing and business development professional, and in her role at HPM has worked as a consultant for aviation clients such as Airbus, FedEx and Boom Supersonic. Sims represents the first member to be elected to the board who comes from outside the aviation industry.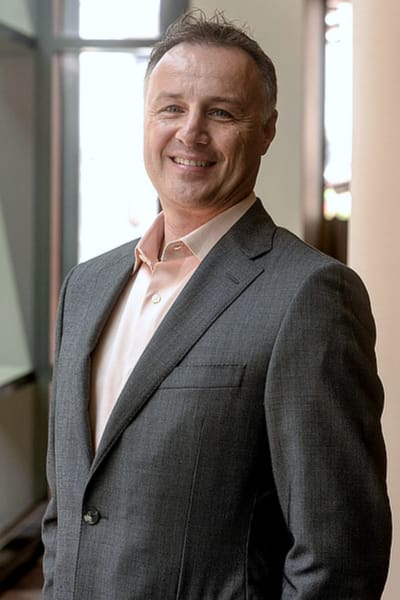 '90 Rob Walker is cofounder of the company Sovereign Sportsman Solutions, named one of Nashville's 50 fastest growing private companies by the Nashville Business Journal, ranking #1 overall in the city. The Nashville Business Journal's ranking criteria examined revenue growth for the region's top companies over the past three years.
'91 Beth Roper Stewart has completed her new book, "One Thing Missing": an illustrated children's book about finding comfort and love in the family, no matter one's origins and past.
'92 Tracey Morant Adams has been named to Savoy magazine's 2020 list of the Most Influential Black Executives in Corporate America for the impact she has had during her career with Renasant Bank.
'92 Rev. Trisha Miller Manarin has been called to serve as The District of Coumbia Baptist Convention's next executive director/minister. Manarin is the first woman to lead the convention in its 144-year history.
'92 Dr. Amy Fowler Murphy has transitioned to her new role at the Alabama State Department of Education as Administrator of the Alabama Science in Motion (ASIM) program. ASIM is the high school science component of the Alabama Math, Science, and Technology Initiative where Dr. Murphy served as a regional science education specialist from 2009-2017.
'92 Hon. Barrett Painter has been appointed to serve as Bradley County's new General Sessions Judge with Juvenile Jurisdiction.
'92 Nancy R. Phillips will serve as executive vice president, chief people officer at ViacomCBS. As the leader of ViacomCBS' global human resources organization, she will be responsible for driving the company's human resources strategy and delivering global programs to create a positive employee experience and a culture of high performance. She has also been appointed to the board of directors for Franklin Covey Co, a global performance improvement company.
'93 Liesl Bolin has created the covers for The Last Crystal Trilogy by Frances Schoonmaker. "The Last Crystal," the final book of the trilogy, won the 2019 Agatha Award for Best Middle Grade/Young Adult Mystery from Malice Domestic.
'94 Joseph "Joe" Beach has joined South State Bank's Private Wealth team as a wealth advisor. Beach comes to South State with an extensive knowledge of estate planning, business planning and tax law. He most recently served as regional trust advisor for a large regional bank where he regularly reviewed estate planning documents and made recommendations to high net worth and ultra-high net worth clients. Prior to that, Beach practiced law for more than 20 years and worked for a private wealth management firm.
'94 & '00 Amy Cheek Fineburg joined the College Board as director of AP psychology curriculum, instruction, and assessment. She will work to develop curricula, teaching resources, and assessments for AP psychology students and teachers around the world. Amy is a former AP psychology teacher and curriculum leader for several Alabama public schools and districts, most recently serving as the advanced programs specialist for Jefferson County Schools. In addition to her new position with the College Board, Amy will serve in 2020 as president of the Society for the Teaching of Psychology, Division 2 of the American Psychological Association.
'94 Dr. Todd Jones recently received his post-masters certification and doctorate from Tarleton State University, a division of the A&M system of universities in Texas. Todd is a high school principal in Era, Texas. He currently presents lectures at leadership conferences in the state of Texas that focus both on leadership and technology in education. He is married to '96 Joanna Jones and they have a 15 year old daughter.
'94 Rev. Scot McCosh and Paula McCosh recently finalized the adoption of their son, Jamauri Richardson. Jamauri is a sophomore in high school and has been part of the family since the 5th grade.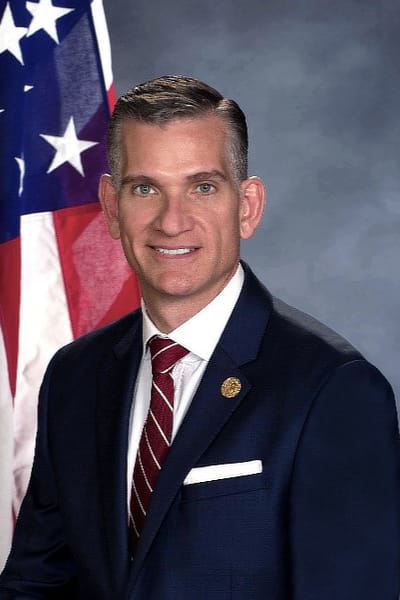 '95 Hon. Bobby L. Christine, U.S. Attorney for the Southern District of Georgia and Judge Advocate General for the Georgia National Guard, has been promoted to Brigadier General in the National Guard.
'95 Mary Ann Etzler, who has spent close to 2 decades volunteering as a guardian ad litem for at least 49 child victims of abuse, abandonment and neglect, was honored last month by the Florida Supreme Court and the Florida Bar with the legal profession's highest statewide public service award, the Tobias Simon Pro Bono Service Award. Before becoming an attorney, Etzler worked for nearly 15 years with the St. Petersburg Police Dept as a patrol officer.
'96 Hon. Deana Hood has been appointed to the board of trustees at Battle Ground Academy in Franklin, Tennessee. She currently serves as the Franklin Municipal Judge as well as the Spring Hill Municipal Judge.
'97 Hon. Elisabeth French will become the first female presiding judge of the Jefferson County Court System.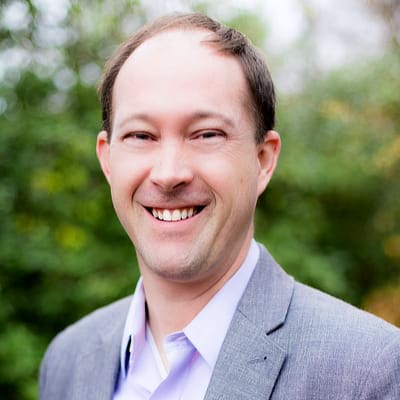 '97 Andrew Jernigan is the cofounder of Insured Nomads, a disruptor in insurance for travelers, digital nomads and expats on the move through providing protection for the traveler and impact through our partnership with Not For Sale by providing intervention, rescue, protection and education - empowering vulnerable communities so that the exploitation of humans for trafficking is stopped.
'97 Victor Terry has been named the first chief diversity officer and vice president of public relations for State Farm. State Farm is number 36 on the Fortune 500 list with 58K employees and about 20K independent agents. 
'98 Lana Olson, a partner at Lightfoot Franklin & White LLC, has been elected second vice president of DRI, an organization of defense attorneys and in-house counsel. Olson most recently served as secretary-treasurer for DRI from 2018 to 2019. She was also a founding member of DRI's women in the law committee and served as its chair from 2013 to 2015. In 2018, the DRI Foundation established a tribute in Olson's name in recognition of her years of service to DRI and her commitment to philanthropy and public service on behalf of the organization.
'98 Kari Osborne began serving as a regional manager in the MidSouth Office of Operation Christmas Child, which is a project of Samaritan's Purse.
'98 Mark Price has been named the new athletic director for Baylor School in Chattanooga, Tennessee.
'99 Kristen Farmer Hall and '12 Victor King opened Bandit Patisserie in the former Sweet Jon's Revelator Coffee shop in Homewood. Bandit is a full-scale patisserie that merges Southern ingredients with French technique.
2000s Graduates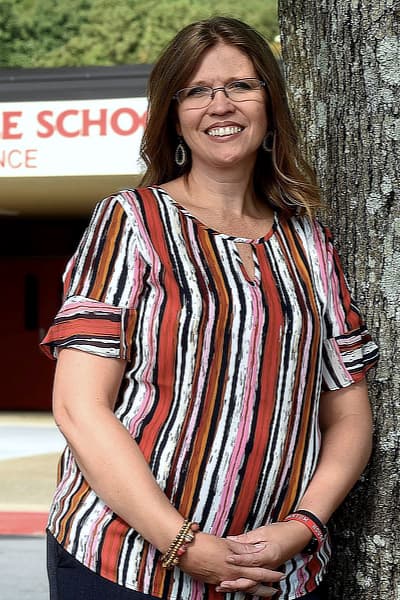 '00 Amber Bunce has been named the new assistant principal at Red Top Middle School in Emerson, Georgia.
'00 Nicole Rocco has been added to the board of directors for The Literacy Coalition of Palm Beach County. Rocco is a corporate counsel with Florida Crystals Corp. in West Palm Beach. Rocco received a bachelor's degree in communications from Barry University; a master's degree in criminal justice from Florida International University and her J.D. from Cumberland School of Law at Samford University.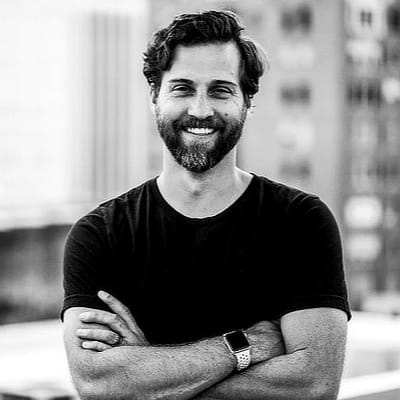 '01 Mark Ervin, president of Big Communications, has been named one of the Birmingham Business Journal's top 40 under 40 of the Decade.
'01 Dustin Greene who has been appointed chief executive officer of TriStar Skyline Medical Center in Nashville. As CEO of TriStar Skyline, Greene will be responsible for operations at the 278-bed hospital as well as TriStar Skyline Madison, a 121-bed behavioral health hospital, and related care areas serving communities in and around middle Tennessee and southern Kentucky.
'01 Hon. Carrie Beavers Markham was sworn in as probate judge in Newnan, Georgia. After being admitted to the State Bar of Georgia in 2005, Carrie practiced law in Atlanta at Alston & Bird for four years before moving back to Newnan in 2009. Upon returning to Newnan, she joined the firm of Rosenzweig, Jones, Horne & Griffis, where she practiced law for ten years, primarily in the area of civil litigation. Judge Markham also served as a guardian ad litem and as a court appointed attorney for the Probate Court during her time at Rosenzweig, Jones, Horne & Griffis.
'02 Hon. Andrew Brasher has been confirmed to the U.S. Court of Appeals for the Eleventh. Brasher is a judge on the U.S. District Court for the Middle District of AL. President Trump nominated Brasher to that court in 2018 and he was confirmed in 2019. From 2014 to 2019, Brasher was the solicitor general of Alabama. Judge Brasher is a member of the Samford Board of Overseers.
'02 Hon. Robert Tidwell has been named the municipal court judge for Woodstock, Georgia. Tidwell is a partner and trial attorney with Tidwell Strimban, a personal injury law practice with offices in Woodstock.
'03 Ashley Stidham Seligson and her husband, Alex, are the founders of Birmingham based Little Hands Service Hearts. They have been named one of the top 30 families in the Disney and Points of Light Volunteer Family of the Year. Launched in 2018, the volunteering reward program has mobilized more than 600,000 volunteers representing more than 106,000 families. Alex and Ashley launched Little Hands Serving Hearts in 2017. The nonprofit focuses on creating volunteer opportunities for children ages 12 and under. Their goal is to inspire children to realize their potential through volunteer opportunities that allows them to experience empathy, compassion and the importance of community.
'04 Benjamin "Ben" Lawrence was recently promoted to director of business development for ThermoFisher Scientific's Pharma Services Group. ThermoFisher is a worldwide leader in service science and the world's largest pharmaceutical manufacturer.
'04 Hon. Kelly Pate, a partner at the Birmingham law firm of Balch and Bingham, has been selected by the judges of the U.S. District Court for the U.S. Middle District of Alabama to serve as magistrate judge. Pate has worked with Balch and Bingham since 2005, specializing in labor and employment law.
'05 Matt McKinney began as the White House Liaison at the Peace Corps and has now been promoted to the Deputy Chief of Staff role. 
'05 George Morris has been elected to serve on Cabaniss, Johnston, Gardner, Dumas & O'Neal LLP's Management Committee. Morris has been with the firm since 2005 and primarily practices in the areas of health care, commercial, and personal injury litigation, representing a wide range of professionals and businesses, including physicians, physician practice groups and hospitals.
'05 Dennis Rowlen has been promoted to team leader of the Senior Care Lending Group at United Community Bank. Rowlen has been with United Community Bank since the beginning of its Senior Care Lending division in 2016.
'05 & '09 Ryan Thompson has been named partner at Maynard Cooper & Gale. He is a member of the firm's bankruptcy and restructuring practice. Ryan devotes a significant amount of his practice to representing clients in distressed mergers and acquisitions, general commercial litigation, landlord/tenant disputes, bankruptcy preference, and other avoidance litigation, receivership proceedings, UCC transactions and all aspects of the bankruptcy process.
'05 Jenifer Wallis has been named partner at Munck Wilson Mandala LLP in its new Los Angeles office. Jenifer Wallis is an IP litigator, who focuses on copyright, trademarks and trade secrets and also serves as general counsel for production companies.
'06 Joe Graves has been named CEO of Gunner Kennels, creator of the double-wall rotomolded dog crate and recipient of the 5 Star Crash Test Rating from the Center for Pet Safety.
'06 & '07 Kevin Pughsley of Berry Middle School was one of four Alabama recipients of the Presidential Award for Excellence in Mathematics and Science Teaching. Pughsley has been an educator for 12 years, teaching sixth grade earth science. He currently teaches at Berry Middle School in the Hoover City School System and previously spent 10 years teaching at Calera Middle School in the Shelby County School System.
'07 Dr. Matthew "Matt" Burford is the new associate director of the grant-funded Thriving Pastor Initiative at Beeson Divinity School. Burford also serves as an apologetics and evangelism specialist with the Alabama Baptist State Board of Missions and is president of Tactical Faith, an apologetics and theological training group.
'07 & '12 Phyllis Branham Faust has been named principal of Magnolia Elementary School. Her prior position was as principal of Trussville City Schools' Alternative Learning Center, where she simultaneously served as testing coordinator, English language learner coordinator and science coordinator for the school system.
'07 Clinton "Clint" Calvert has joined Bryant Bank as vice president, commercial banker and will collaborate, produce and manage commercial relationships in the Birmingham area. Calvert has 12 years of commercial loan experience and previously served as commercial loan officer at New Jersey-based Valley Bank in Birmingham.
'07 Joseph Edens Fayette County High School Class of 2003, was inducted into the FCHS Hall of Fame, Class of 2020. Edens was a standout baseball player, winning All-Region and All-Area recognition. He later helped lead Samford University to the Ohio Valley Conference title. Joseph was drafted by the San Francisco Giants in 2007 and played in their farm system for several years.
'07 Taylor Hart was recognized by Forbes on the Best-In-State-Next-Gen-Wealth Advisors list.
'07 Dr. Chris McCaghren was appointed Deputy Assistant Secretary of the United States Department of Education in August 2019. He is responsible for a number of higher education initiatives at the national level.
'07 Lauren Cantrell McCaghren has joined the Greenwood/Asher & Associates Inc. team as an executive search consultant to help institutions of higher learning select candidates for their rapidly changing landscapes. Lauren served in advancement roles at University of Mobile, Samford University, Catholic University of America and George Washington University.
'08 Jamie Lynn Blackman is the director of the Center for Career and Workforce Development at Wallace State Community College. Under her leadership, Wallace State Community College has earned the designation as Registered Apprenticeship Sponsor by the U.S. Department of Labor.
'08 Christian Corts was named Tennessee regional president for BB&T in April 2018, the youngest person to be one of the bank's regional presidents. In Dec. 2019, BB&T merged with SunTrust to create Truist Financial Corp. Corts is now responsible for 42 locations and more than 275 associates.
'08 Rev. Cokiesha Robinson has been named associate dean of student diversity and inclusion at Grace College. She is the founder of Cross Spring Ministries and a writer for Our Daily Bread. Robinson most recently served on the Beeson Divinity School dean's advisory board. Prior to full-time ministry, she worked in the radio and newspaper field.
'09 Brooke Burton Dunham has been approved by the Shelby County Board of Education as a system assistant principal. In her new role, Dunham will be assigned to Helena Elementary School. She has worked in public education for more than 15 years, and holds a bachelor's degree in education from Belmont University and a master's degree in educational leadership from Samford University.
'09 Andrew Westover was named Keith Haring Director of Education and Public Engagement at the New Museum of Contemporary Art in New York City.
'09 Dr. Matt Zauchin and his wife, Lauren, have just opened Village Drug Co. in Mt Laurel. Matt received his undergraduate degree as well as his Doctor of Pharmacy degree from Samford. Matt previously worked as the manager at the Pelham Walmart pharmacy before deciding to open his own pharmacy.
2010s Graduates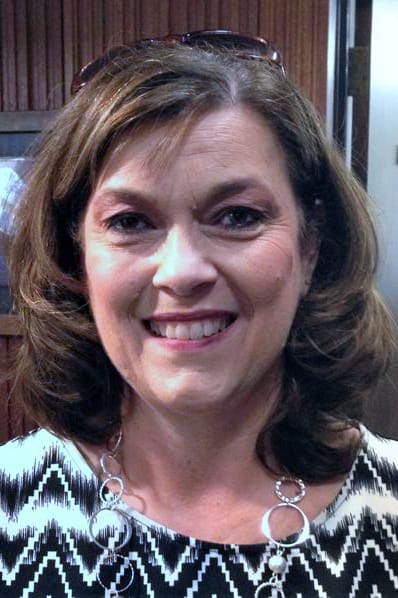 '10 Angela Barnes has been named principal at Julian Harris Elementary in Decatur, Alabama. She comes to the city school system with 33 years as an educator in Limestone County.
'10 William "Billy" DeBuys has joined Valent Group, the risk consulting and insurance division of EBSCO Industries, as vice president in its Employee Benefits Practice.
'10 Emily L. Hart works for MotionMobs, a female-owned software development company in Birmingham, Alabama, as the director of consulting and marketing. She is working on developing an app that could help prevent the spread of COVID-19. To combat the spread of COVID-19, MotionMobs partnered with the Alabama Dept. of Public Health and the University of Alabama at Birmingham to develop an app that alerts users if they might be at risk for COVID-19. Using an exposure notification API developed by Apple and Google, the app allows users' devices to anonymously exchange keys with other devices via Bluetooth. If an app user is diagnosed with COVID-19, the app then sends an alert to all other app users who recently exchanged a key with that user.
'11 Jennifer Abney has been named Hewitt-Trussville Middle School Principal.
'11 Dr. Melissa Carlisle Golden opened a new private practice for licensed professional counseling in Prattville, Alabama. Transformation Counseling, Inc. exists to be a humble vessel in the Lord's pursuit of the hearts, minds, and souls of His precious created beings. Dr. Golden's desire is for her counseling to be a discipleship tool for the Christian and an evangelistic outreach for the non-Christian.
'11 Dr. Ralph R. Gold, Jr. is a member of the inaugural Gulf Shores School Board.
'11 Dr. Joel Henneke has been named principal of Homewood Middle School. Henneke has been assistant principal at Homewood Middle School for 4 years, and he has 22 years of experience in education as a teacher and an administrator at the middle and high school level.
'11 Madison Hall Perekotiy and her husband, Yuriy Perekotiy, have lived in Odessa, Ukraine, working as full-time missionaries with at-risk families and children, children in orphanages and the deaf community since early 2018.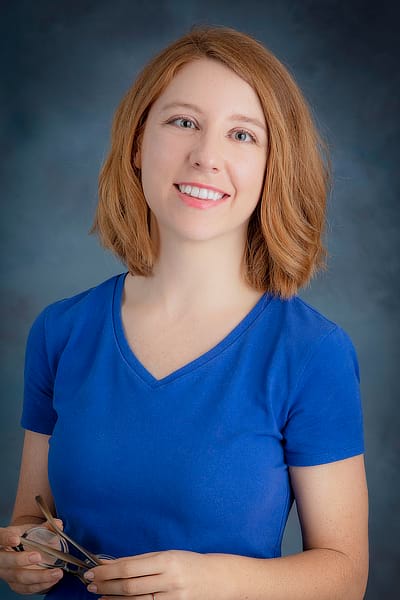 '11 Leah Duncan Powell is the digital collections librarian at Louisiana State University Libraries in Baton Rouge. She received her Ph.D. in English from LSU in August 2019.
'11 Dr. Sarah Tapscott graduated from the University of North Florida Brooks School of Nursing with her Doctor of Nursing Practice and became licensed as a board-certified family nurse practitioner in the state of Florida. She lives in Jacksonville, Florida with her husband, '10 Tim and their 4-year-old daughter Willow.
'12 Isaac Cooper has been named chairman of the Birmingham Civil Rights Institute's board. Isaac was the first president of the Samford Black Alumni Association and serves as a member of the Samford Board of Overseers.
'12 Karly Beavers, who teaches world history in standard and pre-advanced placement classes, is 2020 "Teacher of the Year" at Discovery Middle School.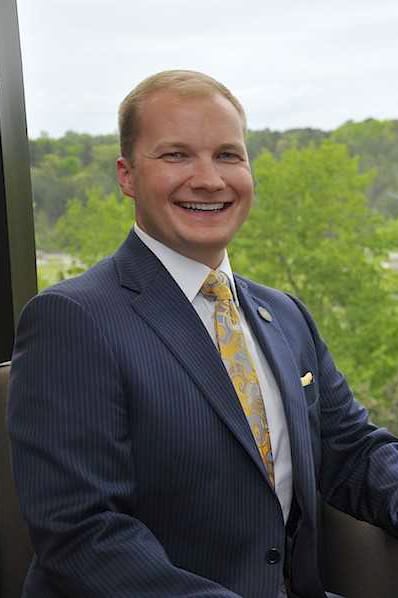 '12 Dr. Bruce Harris was named the Distinguished Young Pharmacist of 2019 by the Alabama Pharmacy Association. This award recognizes a pharmacist for individual excellence and outstanding service to the profession.
'12 Craig Lawrence has been promoted to partner in the firm Adams and Reese. Lawrence uses his joint Samford degree to aid him as he represents clients on commercial real estate matters, including acquisitions, building lease transactions, dispositions, financing, ground lease transactions and due diligence (title and survey). Additionally, he provides corporate services to small businesses and franchisees in the areas of entity formations and growth planning.
'12 DuBose Ratchford was appointed as the first chief operating officer of Big Rock Natural Stone & Hardscapes, which provides the largest selection of natural stone and hardscapes in North and South Carolina. At Big Rock, Ratchford will be responsible for overseeing ongoing business operations within the company and for establishing procedures and strategies that promote company culture and vision for sustainable growth.
'12 Michael Blake Stevens , in partnership with Key7 Investment Company, recently bought O'Henry's Coffees and O'Henry's Coffee Roasting Co. from owners Mary and Randy Adamy. Stevens, who most recently worked at Birmingham staffing firm The Onin Group, is no stranger to the coffee industry or to O'Henry's. He worked at O'Henry's as a barista and later manager while attending Samford University. He was assistant manager of the Homewood location when the Adamy family acquired the business from founder Dr. Henry Bright. Adamy made Stevens manager of a downtown location, where he worked until 2001. Stevens also spent 14 years at Starbucks Corp., where he helped launch new markets and establish the company brand at multiple locations. He then became director of people and culture at The Onin Group.
'13 Dr. Amy McCaffrey Saunders has written a children's book. "When God Made the World" is a rhyming rendition of the story of creation encouraging toddlers and young children to learn and appreciate God and His works in a fun and exciting way.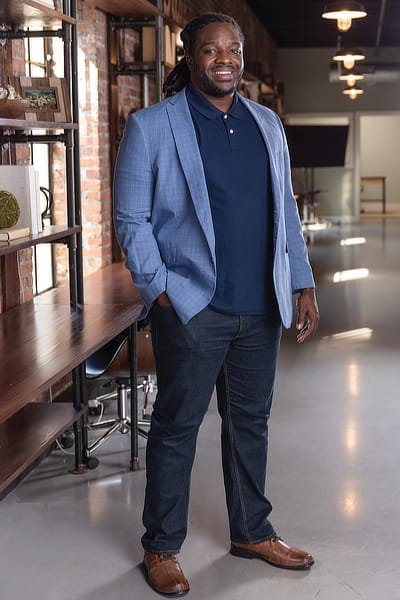 '13 Jeremy Towns, has been named to Mobile Bay's 2019 Class of 40 Under 40.
'14 Thomas Ballew's production company, Turnaround Pictures, LLC, released a trilogy of short films they have been working on for the past four years. The first one was filmed in Birmingham, the second in Chicago and the third in New York. The first film features numerous Samford alumni and faculty.
'14 Dr. Rebecca Rafla has joined Children's Dental Center in Fishers, Indiana.
'14 Dr. Lori Shotts was named the extension campus coordinator for the new Lincoln County location of the Tennessee College of Applied Technology (TCAT)-Shelbyville.
'14 Jaquiski Tartt played with the 49ers during the Super Bowl. Tartt holds the distinction of being the highest NFL draft pick in Samford history.
'15 Laura Cotten and Kristen Iskandrian have opened up Thank You Books, an independent bookstore in Crestwood Village.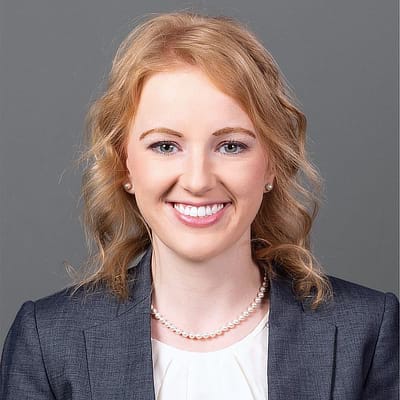 '15 Meg K. Scott, D. was awarded Intern of the Year by the Department of Medicine at the Medical University of South Carolina. This award, selected by residents, is in recognition of the individual's professional excellence displayed in the provision of compassionate patient care and promotion of teamwork among colleagues. Meg was also awarded General Medicine Ambulatory Intern of the Year. This award was selected by Internal Medicine Faculty.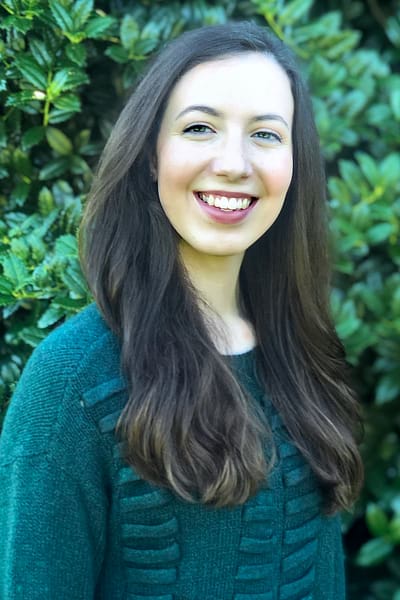 '16 Emily Sanders is a U.S. figure skating double-gold medalist and figure skating coach. She has represented the United States while skating on the Harmony adult team from Michigan. The team won the bronze medal at the 2019 Nation's Cup – Gold Cup competition in Epinal, France in April. The team then won gold at the 2019 Theater on Ice nationals in June. Not only does she skate, but Emily is one of three coaches for the Magic City Theater on Ice teams. The 2018 and 2019 Magic City open teams are the current Theater on Ice open national champions and the new intermediate team is the 2019 silver medalist.
'17 Martin Arguello has opened up a MOOYAH Burgers, Fries & Shakes franchise location in Brentwood, Tennessee. Martin was previously working in various sales positions, a cloud data management company, cybersecurity and in healthcare. Arguello graduated from Samford University as a finance major. Currently, he is working toward his master's in business administration at Tribeca Nazarene University in Nashville.
'17 Austin Jackson is the newest member of the HighFive Dental team. As HighFive's Senior Accountant, Austin is responsible for assisting with all HighFive accounting, financial reporting and cash management operations. Additionally, he will assist with due diligence efforts related to acquisitions
'17 Miya Moore was recognized on the 2019 National Black Lawyers "Top 40 Under 40" list for Alabama. She currently practices at Burr & Forman in the firm's Financial Services Litigation and Immigration practice groups. While studying at Cumberland School of Law, Miya was a member of the American Journal of Trial Advocacy and Judge James Edwin Horton Inn of Court. Throughout her time at Cumberland, Miya was listed on the Dean's List, served as a Judge Abraham Caruthers Fellow, and was an active member of the Career Development Advisory Board.
'18 Angela Napolitano has been hired as the head coach of the Cavalier girls' basketball program at John Carroll Catholic High School. She has been an assistant for the past two seasons.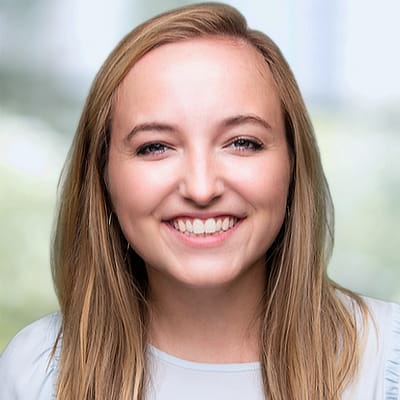 '18 McKay Richardson has been recognized as an "Employee of the Quarter" in KPMG's Washington, D.C. office. She was nominated for this recognition by her peers and selected for her exemplary performance, commitment to the organization's core values, and for demonstrating characteristics that improve the workplace. She works in the office's federal audit division.
'18 Anna Beth Riggs makes her directorial debut in the kid-friendly performance of "Elf Jr: The Musical" in Hopkinsville, Kentucky. She has a Bachelor of Fine Arts in musical theater from Samford University.
'19 Averie L. Armstead was honored by the University of Alabama College of Human Environmental Sciences for outstanding professional achievement in the area of sport hospitality. She was presented the annual Jack Davis Professional Achievement Awards during recent homecoming activities on campus. The Jack Davis awards are presented to outstanding CHES alumni for their professional accomplishments. While working on her master's concentration in sport management, Armstead worked for University Programs at UA where she rose from student worker to graduate assistant and finally program event coordinator. In that capacity, she coordinated more than 250 campus events each year. Armstead recently earned her J.D. from Samford University, Cumberland School of Law, and is an associate at Starnes Davis Florie, a complex litigation group which handles TItle IX and NCAA Compliance and Investigations.
'19 Hannah Cory has been recognized as one of Birmingham Business Journal's People on the Move. Hannah received her Juris Doctor from Cumberland School of Law as well as her M.B.A from Brock School of Business. She is now an associate attorney at Cory Watson.
'19 Preston Little is owner and operator of First Avenue Productions LLC. His company provides imagery and content for various businesses and individuals within Birmingham and the southeast.
'19 Molli Masaniai has joined the securities litigation and the financial institutions litigation and compliance practice groups at Maynard Cooper & Gale PC. Masaniai earned her law degree from Cumberland School of Law, where she served as research editor of Cumberland Law Review. At Cumberland, she was a Merit Scholar, a Judge Abraham Caruthers Legal Research and Writing Fellow, and Scholar in Merit in several courses including federal courts and pretrial practice.
'19 Kat Conner Sterling will be starring in the feature film "A Week Away."
'19 Kurt Vande Streek has been named one of the Mississippi Business Journal's Top 50 Under 40 business leaders for 2020.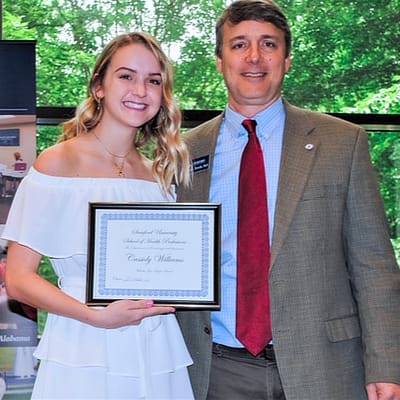 '19 Cassidy Williams is currently playing professional basketball in Ireland in its top women's basketball league. She is also coaching 4 different youth and adult basketball teams while there. While at Samford she was a 4-year letter winner on the Samford women's basketball team, 2-time captain and the recipient of the Jim Angel award. Some of the criteria for the Jim Angel award include: student(s) with a declared major in the Department of Kinesiology with a record of high academic achievement who have demonstrated commitment to service and are able to state how faith will play a role in their future career.
Faculty & Friends
Faculty Cassandra Adams has been elected to serve on the Birmingham Civil Rights Institute's board of directors.
Faculty Ramona Albin was honored by Cumberland School of Law as Teacher of the Year for 2020.
Faculty Marshall Cates serves as President-Elect on the Board of Directors for The College of Psychiatric and Neurologic Pharmacists (CPNP).
Faculty Roy Ciampa, chair of Biblical and Religious Studies, was honored for excellence in scholarship at the Southern Theological Fellowship meeting.
Faculty Jill Evans was honored by Cumberland School of Law as Teacher of the Year for 2020.
Faculty Jonathan Fleming has created a dynamic visualization tool to help his students and the public better understand the spread of the coronavirus pandemic. The project uses data from the Alabama Dept. of Public Health, Johns Hopkins University and the Centers for Disease Control. Citizens can use the tool to check on the spread of the virus not only in Alabama but across the world. It uses color-coded, scalable shapes to indicate higher areas of infection.
Faculty Terry Putnam was honored by Cumberland School of Law as Teacher of the Year for 2020.
Friend James Andrews, orthopedic surgeon and sports medicine specialist, has been selected for induction into the Horatio Alger Association of Distinguished Americans. The Horatio Alger Award is given each year to people who have succeeded despite facing adversities and remained committed to higher education and charitable efforts in their communities.
Friend Amy Beard, MSN, RN, NEA-BC, has joined Callahan Eye Hospital & Clinics at the University of Alabama at Birmingham as chief nursing officer. Beard is a board-certified nurse executive with more than 24 years of extensive operational and clinical leadership experience. She has served on Samford University's School of Nursing Advisory Board.
Friend Jeff Peoples has been named Alabama Power Company's new executive vice president of customer and employee services.
Friend William "Bill" Holcombe Pryor, Jr. has assumed the roles of Chief Judge of the U.S. Court of Appeals for the Eleventh Circuit and Chairman of the Eleventh Circuit Judicial Council. Chief Judge Pryor has become the highest-ranking judicial officer in the Eleventh Circuit.
Friend Lori Robertson will assume the role of president and CEO of The Colonnade Group, a Birmingham-based sports event production company.
Friend Nicholas "Nick" Sellers, an executive with Alabama Power Co., has been named CEO of the World Games 2021. The World Games, which will take place in July 2021, will bring athletes from around the world to the Magic City to compete at a host of venues around Birmingham.