The Office of Spiritual Life believes that missions help to shape students' awareness of God's work in Birmingham, the United States, and the world. We provide support and opportunities for students to engage in this work. Participating in missions offers students with the chance to experience other cultures as they develop their own understanding of what it means to be a global Christian. Our hope is that when students leave Samford, they will be well prepared to enter the world with the motivation and tools they need to spread the Gospel wherever they go, locally and internationally.
Go Global Week
Go Global Missions Emphasis Week takes place on campus each fall semester. During this exciting week of events on campus, students have the opportunity to engage missions representatives from all around the world and to hear from nationally renowned global missions speakers. Our hope is to inspire students toward a life of deeper commitment to the Great Commission and to educate students about how to get involved globally.
Journey Fund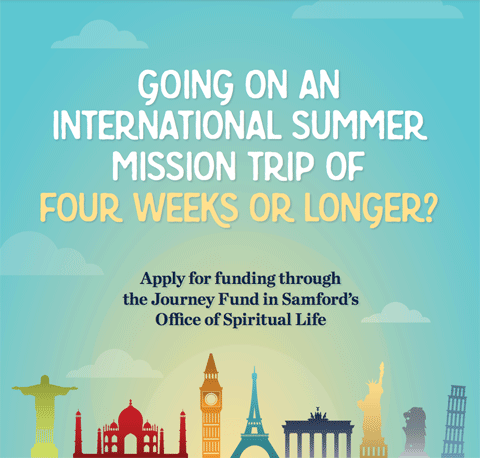 Any full-time Samford undergraduate going on an international mission trip of four weeks or longer during the summer may apply for financial assistance for their trip. Applications are available during the spring semester.
Global Missions Scholars
The Global Missions Scholars program is designed for incoming freshmen who sense a call to global missions as a vocation, but also may be interested in one of the many areas of study at Samford, such as nursing, business, or education. We encourage students to develop their skills and talents in the classroom, while at the same time, nurturing their desire to use their gifts in reaching the world for Christ. Through mentoring, peer discussions, and cross-cultural immersion, this program will help students leverage their major for the sake of the Gospel.

Global Missions Scholars recipients will receive a one-time travel stipend up to $3,000 to be used toward the student's required cross-cultural missions immersion. In addition, each scholar will receive a one-time conference stipend to be used toward expenses related to a global missions conference or educational opportunity.
Global Involvement on Campus
Participate in Go Global Week.
Apply to the Journey Fund if you are participating in a summer mission trip.
Request that your name be added to the global missions email list used to send out missions-related updates by emailing Felicia Belter.
Attend Global Voices in Beeson Divinity School.
Apply to serve as an International Ambassador by emailing Jennifer Beck.
Local Ministry
Our hope is to inspire students toward a deeper commitment to the Great Commission and to educate them about ways to become involved both locally and globally. We encourage students to get engaged with local ministries by partnering with the Office of Community Engagement. Through community cadres and many other local partners in the greater Birmingham area, our students can get involved in meaningful and mutually beneficial ways.