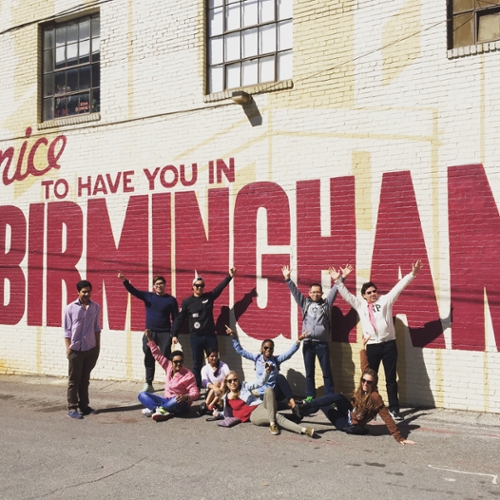 The Global Engagement Office (GEO) provides essential student support services to international students. From your first orientation until graduation, GEO is a primary resource and advocate for you at Samford. We hope to help you make a smooth transition to Samford and the U.S., provide you with all the resources you need to maintain your immigration status, and support you in achieving success at Samford. The GEO is located in Brooks Hall 221 and our staff is available to assist you Monday through Friday 8 a.m.-4:30 p.m. If you need assistance regarding immigration issues or concerns please schedule an appointment or contact us.
Students Come from 17 Countries

Not shown: Cayman Islands
The economic contributions of international students are in addition to the immeasurable academic and cultural value these students bring to our campuses and local communities. NAFSA reports that international students at Samford University alone contribute 2.2 million and support 25 jobs to the U.S. economy. For every 3 international students enrolled, 1 U.S. job is created. Learn more about the NAFSA economic analysis.
New Student Information
We look forward to meeting you and are excited about your academic and extracurricular contributions to the Samford community. The international student population is composed of both degree-seeking students and our exchange program students. As a prospective undergraduate student, the Admissions Office will assist you during the application process. As a graduate student, the Admissions advisor for your specific program will assist you during your application process. As an exchange student, the Global Engagement Office will assist you during the application process.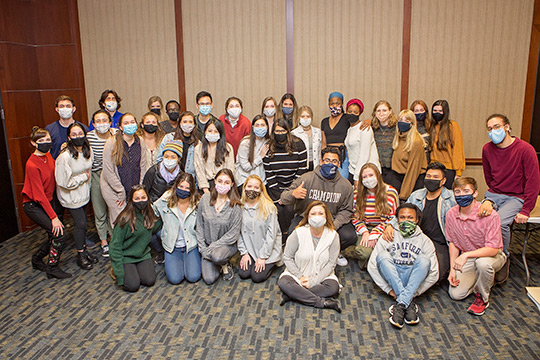 We are pleased that you have chosen to study at Samford University and we hope these resources will support you in your preparations.
Once your admissions application is complete, you will receive an email requesting the financial documentation necessary in order for GEO to issue an I-20 or DS-2019 for you to apply for a visa in order to study at Samford University.
Upon acceptance, GEO will review all required documentation, process immigration documents, and contact the student to set up a shipment for receiving documents and information on how to apply for an F-1 or J-1 student visa.
Getting Ready to Enter the US
Here are important steps to take after receiving your Form I-20 or Form DS-2019:
First-time F-1 and J-1 visa applicants must pay the SEVIS fee. Keep a copy of your receipt.
Make your visa interview appointment with a U.S. Embassy or Consulate to obtain a U.S. visa that will allow you to enter the United States. Here are some government resources to help you prepare for your visa interview.
Pre-Arrival Information
The Pre-Arrival Information sheet outlines some steps you should take to ensure a successful arrival including important dates, housing plans, health forms, etc.
Global Engagement Booklet
The Global Engagement Booklet will provide you with helpful tips on how to pack, set up your Samford email, locate off-campus housing (if necessary), enroll in insurance, pay your tuition, etc.
Health Services
All new students will receive an email from Med+Proctor with instructions for creating an account and providing your health information. Medical forms must be completed and submitted before arriving at Samford. When you arrive at Samford, the University Health Services office will administer a TB skin test and provide a record of immunization for you to upload to Med+Proctor. International students must have a TB skin test within 72 hours of arrival to campus.
Health Insurance
International students are required to maintain health insurance coverage while enrolled at Samford University by purchasing the Samford student insurance plan unless proof of comparable coverage is furnished.
All international students must maintain health insurance that meets the minimum coverage requirements for the university.
Medical Expense (per Accident or Sickness) - $50,000
Accidental Death and Dismemberment - $10,000
Medical Evacuation - $50,000
Repatriation/Return of Mortal Remains - $50,000
For questions regarding student insurance or completing the Insurance Waiver Form, email
Tracy Hanrahan
or call 205-726-4578.
Housing
All unmarried undergraduates 20 years of age and under are required to reside in university housing while enrolled at Samford University. A housing file will be created for you after you have confirmed your acceptance of admission by returning the enrollment confirmation form with payment of the required $250 enrollment deposit. View the Residence Life FAQs or email reslife@samford.edu.
Arrival and Immigration Check-In
International students cannot arrive more than 30 days before the program start date as listed on the I- 20 or DS-2019. The GEO wants to be the first to welcome and assist you when you arrive. ALL International students are advised to plan their travel so they can attend the mandatoryImmigration Check-In Day. GEO provides airport pick-up for all international students who arrive to the Birmingham-Shuttlesworth International Airport (BHM) on the scheduled arrival days between 8 a.m. – 8 p.m. CST. In order to receive arrival services, students must complete the Immigration Check-In form located on the Application Status page. If you arrive after 8 p.m., you will need to arrange your own hotel arrangements and transportation for that evening.
Undergraduate Students: When you arrive on campus, you will come to the GEO in Brooks Hall 221 and an International Ambassador will assist you in moving in to your on-campus residence hall.
Graduate Students: If you arrive on the scheduled arrival days between 8 a.m.- 8 p.m., you can request an airport pick-up and an International Ambassador will take you to your off-campus housing arrangement. Email geo@samford.edu to receive a list of apartments conveniently located to Samford's campus.
Forms and Information Sheets
Immigration
Maintaining Your Visa Status
As an F-1 student, it is your responsibility to maintain lawful status in accordance with US immigration laws. You must take care during your stay in the U.S. to maintain lawful F-1 status as failure to do so can have serious short-term and long-term consequences.
Important to Remember
Maintain a valid passport at all times for at least 6 months into the future.
Students in the US on F-1 and J-1 visa are required to enroll in a full program of study each semester. Full-time is a minimum of 12 credit hours for undergraduate students and graduate students follow the requirements determined by their academic program. Special circumstances for a reduced course load are allowed but must be approved by GEO.
Keep Form I-20 current and do not let it expire. Make sure all the information on your I-20 is accurate and valid. Contact GEO to request an updated I-20 as soon as any information changes (ie: address, contact info, major, etc.) Keep ALL Form I-20s that you receive. GEO does not maintain original Form I-20s in student records.
Update Contact Information-Regulation: It is the student's responsibility to report a change of address and/or contact information to GEO and update information in your student portal within 10 days of the change.
Travel Signature: The travel endorsement on the second page of your I-20 is valid for one year from the date signed. When you need an updated travel signature, bring your passport and immigration documents to GEO at least two weeks before the date you plan to leave the US. We will review your documents, confirm your full-time status, and endorse you Form 1-20 or Form DS-2019 for travel.
It is important to keep the end date of your I-20 in mind. If you anticipate needing more time to complete your program, please schedule an appointment with GEO as soon as possible. You may apply for an extension if you are eligible. If you are not eligible for an extension, you will have to apply for reinstatement with the Department of Homeland Security.
Transfer or Early Withdrawal from the University: GEO will help facilitate the transfer of your SEVIS record to your new school or program once you have been accepted. Review the SEVIS Transfer Out Process and submit all required documents to the DSO at Samford by email. If your new institution requires GEO to fill out a transfer form, please include this document as well.
Online Classes: F-1 students have restrictions regarding the number of online or distance learning credits that can be taken during the semester as it relates to fulfilling the full-time enrollment requirement. There are also restrictions regarding online enrollment during the final term of study – especially when the final term for completion is in summer.
Employment Authorization
International students who maintain legal status under the regulations set forth by the U.S. government may be allowed to work for wages on campus. On-campus work is limited to no more than 20 total hours per week during Fall and Spring term.
Permission to work off campus can also be obtained for Optional Practical Training and Curricular Practical Training. Schedule an appointment to discuss eligibility and regulations pertaining to the different types of employment options.
Curricular Practical Training (CPT)
Curricular Practical Training (CPT) authorization allows an F-1 student to participate in an internship/clinical/practicum (prior to their program end date) that fulfills a course or degree requirement. This presentation provides more information on the eligibility and regulations of CPT authorization.
On-Campus Employment
Optional Practical Training (OPT)
Optional Practical Training (OPT) is temporary employment that is directly related to an F-1 student's major area of study. Eligible students can apply to receive up to 12 months of OPT employment authorization before completing their academic studies (pre-completion) and/or after completing their academic studies (post-completion). However, all periods of pre-completion OPT will be deducted from the available period of post-completion OPT. View this presentation  and the resources below for more information on OPT. 
STEM OPT Extension
J-1 Exchange Students
The purpose of a J-1 Exchange Visitor visa is to promote both international education and mutual cultural exchange. At Samford, we sponsor three different types of J-1 exchange visitors: students, professors (non-tenure track) and scholars.
J-1 students may be engaged in either a degree-seeking program or a non-degree seeking program but must engage in a full course of study.
Pre-Arrival Information
In order to enter the United States as a J-1 visitor you will need a DS-2019 issued by Samford University as well as a valid J-1 visa stamp in your passport. Visitors from Canada do not need the visa stamp but must have a properly endorsed DS-2019 form. You may not enter the United States any earlier than thirty (30) days prior to the program start date as listed on your DS-2019. Likewise, you may not enter later than fifteen (15) days following the program start date. If you plan on arriving later than the arrival date on your DS-2019, please contact the Global Engagement Office to make the necessary arrangements. All arrival/departure records are now done online. You may access your I-94 information after your arrival. It is strongly encouraged you review this as soon as possible for accuracy. If there is a discrepancy please contact the Global Engagement Office as soon as possible. You should print a copy of your I-94 information for your records as well as for our office.
The GEO will assist you in pre-registering for your academic courses before you arrive on campus in August. Exchange students want to establish a balanced academic load that is challenging yet allows time for cultural experiences outside of the classroom that enhance the overall study abroad experience.  You will greatly benefit by keeping an open-mind during this course selection process.
Begin by viewing the courses offered the semester(s) you are taking classes by utilizing the How to Look Up Classes guide.  Keep in mind that lower numbered courses are typically less demanding.  In the US, university students usually take 4-5 classes at a time. 
After selecting the courses you are interested in taking, complete the Pre-Registration form by listing the top 10 courses (titles and numbers) in order of preference.  Meet with the academic advisor at your home institution to review the courses you have selected and receive further guidance on transferrable credits and appropriate course placement.
Send the completed Pre-Registration form to jlbeck@samford.edu.  By doing so you are not guaranteed enrollment in these courses.  Your enrollment in these courses is subject to the prerequisites required, your English and math placement exams, and the course availability.  You will be contacted if there are further questions about your selection.  Once registration is complete, GEO will contact you with instructions on how to access and view your course schedule.
Applying for a J-1 Exchange Visitor Visa
Insurance Requirements: Per Department of State regulations and Samford policy all J-1 exchange visitors are required to maintain sufficient medical insurance coverage for the duration of their program. You must have obtained this coverage by your mandatory Immigration Check-in. Proof of coverage (if outside of the Samford plan) must meet the following minimum standards:
Medical Benefits: $100,000
Repatriation of Remains: $25,000
Medical Evacuation: $50,000
Deductible per accident or illness: $500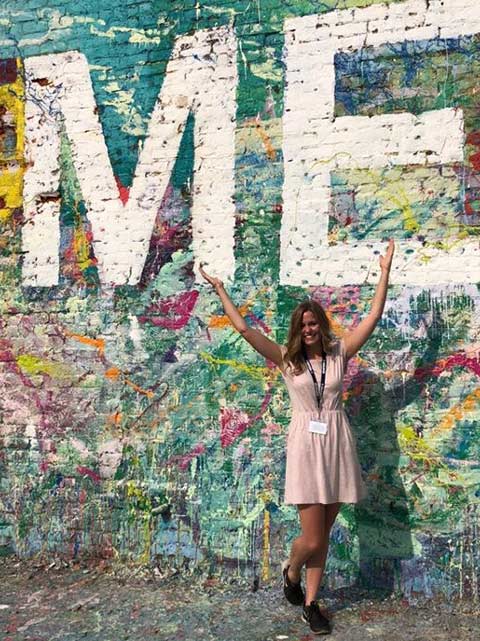 Arrival & Immigration Check-In
All J-1 visa holders are required to check-in with the Global Engagement Office by attending Immigration Check-In. This is a requirement of the U.S. Department of Homeland Security. Failure to check-in within one week of your arrival will result in your J-1 visa being terminated and your J-1 visa revoked. During Immigration Check-In, you will submit the following documents:  your signed DS-2019, I-94 arrival information, your passport and proof of insurance coverage (if you have coverage outside of the Samford plan).  Other J-1 visitors (and students unable to attend orientation) should schedule an appointment to complete an Immigration Check-In with the Global Engagement Office and bring the documents (listed above) to the appointment.
Maintaining Your Visa Status
In order for a J-1 student to maintain status they must:
Attend Immigration Check-In held by the Global Engagement Office or Late Arrival Immigration Check-In scheduled within 5 days of arrival
Attend the University listed on your DS-2019
Be in good academic standing at Samford University
Extend your DS-2019 by the program end date if necessary
Update your DS-2019 in a timely manner if you have a change in either academic program or level
Maintain full-time enrollment as set-forth by your program
Do not accept off-campus employment without prior authorization
Limit on-campus employment to 20-hours per week maximum during academic terms
Maintain sufficient medical insurance for the duration of your program as listed on your DS-2019
Update your current address in Banner within 10 days of moving
Student Services & Campus Life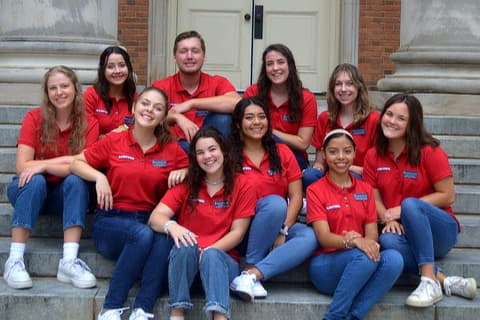 International Ambassadors
International Ambassadors (IAs) represent the Global Engagement Office at Samford University by serving as advocates for cross-cultural exchange, promoting international education, and developing intercultural programming. The IAs assist in orienting new international students to Samford's campus and providing support services to current international students that enhance their campus experience and connect them to the Birmingham community.
Applications open Spring 2023.
International Student Organizations
African Students' Association
Chinese Students and Scholars Association
Samford Resources
Travel and Immigration Document Renewal
Travel Information
Should you choose to travel outside the U.S., please make sure you have the following before leaving Birmingham:
A current passport, valid for at least six months
Valid travel signature on your I-20 or DS-2019
Valid F-1 or J-1 visa stamp
A copy of your Fall 2023 schedule or enrollment verification
Carry them with you and do not put documents in your luggage.  If you need a travel signature or your travel signature will be more than 1 year old at the time you plan to return, please schedule an appointment to visit the Global Engagement Office and receive an update travel signature.
Visa and Passport Renewal Information
Passport 
An international student who has either an expired passport or one that will expire within six months must apply for renewal prior to re-entering the U.S.  You should contact your home country's Embassy or Consulate in the U.S. for information on how to renew or extend your passport from within the U.S. 
Visa
If you need to renew your F-1 or J-1 stamp while you are outside of the U.S., please review the following basic advice:
If you are still on the same SEVIS I-20 or DS-2019 that you first used to enter the U.S. and have not been out-of-status for more than 5 months, you do not have to pay the SEVIS Fee again.
Submit the online visa application form DS-160.
Set your visa appointment.  Prior to scheduling your interview, check visa appointment waiting times online.
At the student visa interview, you will establish non-immigrant intent to the satisfaction of the consular officer by confirming that you have binding ties to your home country and you will depart the U.S. when you have completed your studies.