Chapters & Honor Societies
Samford University is home to 14 active chapters, three governing councils, and two honorary societies. They are supported by the Office of Greek Life through leadership development programming, contract and event planning support, financial management assistance for the councils, and other avenues.
Fraternities
+
Sororities
+
Honor Societies
+
The Gamma Sigma Alpha Academic Honor Society
The Gamma Sigma Alpha Honor Society honors those Greek juniors and seniors who have achieved a cumulative academic GPA of 3.5 or higher during their career, or, have achieved a 3.5 GPA during any of their four classified junior or senior semesters.
The Order of Omega National Leadership Honor Society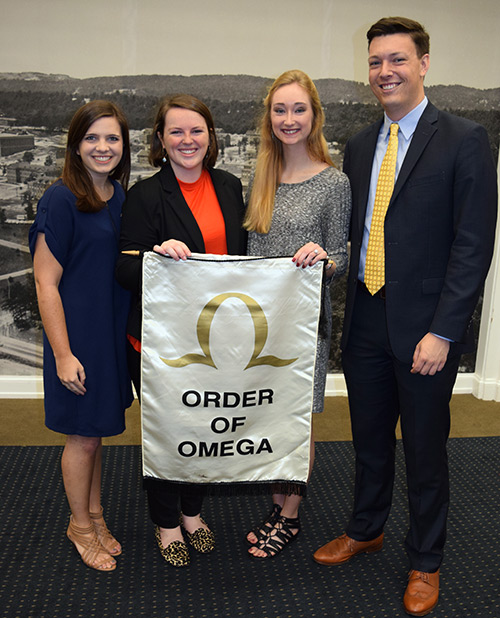 The Order of Omega is the National Leadership Honorary Society for fraternity and sorority life. Nominated by their peers, members must meet specific academic and leadership requirements to be eligible for potential candidacy in the organization. Only 3% of the Greek population each year is invited to join Order of Omega. For the 2016-2017 academic year, 44 students were initiated in the the Omega class of the Xi Xi Chapter.
Order of Omega Executive Board
President- Bailey Josephs, Alpha Delta Pi
Vice President- Hailie Bagley, Phi Mu
Secretary- William Hargrove, Alpha Tau Omega
Treasurer- Nellie Hoehl, Alpha Delta Pi